Style Success Innovation 
Shradha, Let's talk about you. Tell us something about yourself.
I am a fashion designer. My merchandise is under the label Shradha Manaktala. The garments are inspired by Indian embroidery and have an international appeal.
Shradha Manaktala label has made a niche in indo western trousseau wear for young women.
What inspires your fashion designs? Do you often incorporate any particular themes or concepts into your work?
I am a lover of nature and travel. I incorporated motifs from nature in my design. I also draw inspiration from places I travel to museums, art and architecture. I follow an international colour palette with more English tones and have Indian embroidery in my garments.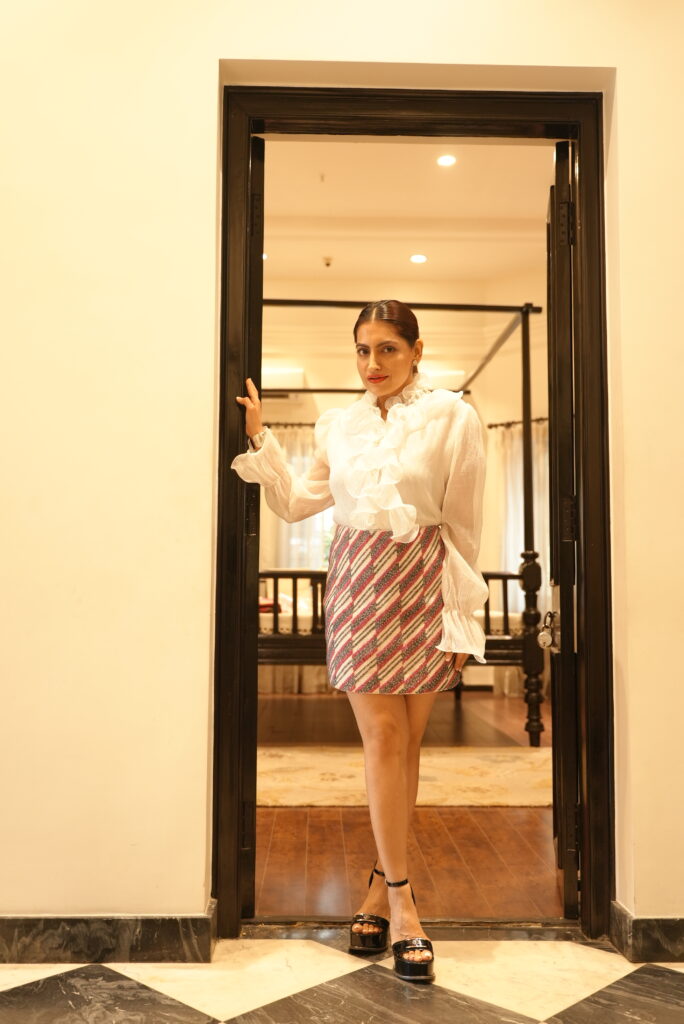 Can you share your background and how you became interested in fashion design?
I am a graduate of NIFT (National Institute of Fashion Technology), Gandhinagar specialising in draping and pattern making. I had done an entire project in Benaras and did a collection of indo western outfits for young women with brocades in my annual year, for which I received an award.
That is how I decided to cater for the trousseau. I grew up admiring good clothes and was always in awe of my mother and her sisters, who carried themselves so fashionably and were always up to the mark. So I also wanted to wear something different and aesthetic and be noticed for being trendy yet classy.
How do you approach the balance between creativity and marketability in your designs?
Over the years, I have realised that I need to be more practical to make a business. So I design four collections – autumn, winter, spring and summer. Every collection has 8-12 designs.
For season changes, we change colours keeping the cut the same. So it's sustainable for the business. About marketing, I am happy that I started fashion blogging four years ago, and people appreciate and want to wear what I wear.
I can relate to people by asking them for their polls in Instagram stories. Also, the posts that give me maximum engagement generate sales, and the more liked seats help me decide the way further for my following collection.
How would you describe your style, and how does it translate into your designs and the content you share as an influencer?
My style is trendy and chic yet classy. I would style a trendy coord- set with a classic belt and blazer so I can wear it day to night.
When I select outfits to promote, I choose lighter tones as it is soothing to the eye and fashionable yet classy. I do not encourage clothes I don't like or wear myself. Black and white are my favourite colours.
I love adding classic elements to my outfits in styling reels – a classy blazer, a pair of classic heels, a versatile stole, and sunglasses.
I like wearing good quality clothes and investing in expensive but timeless things. I also believe in a minimalist approach. So I accessorise with a few things – earrings or a necklace, not both unless it's traditional.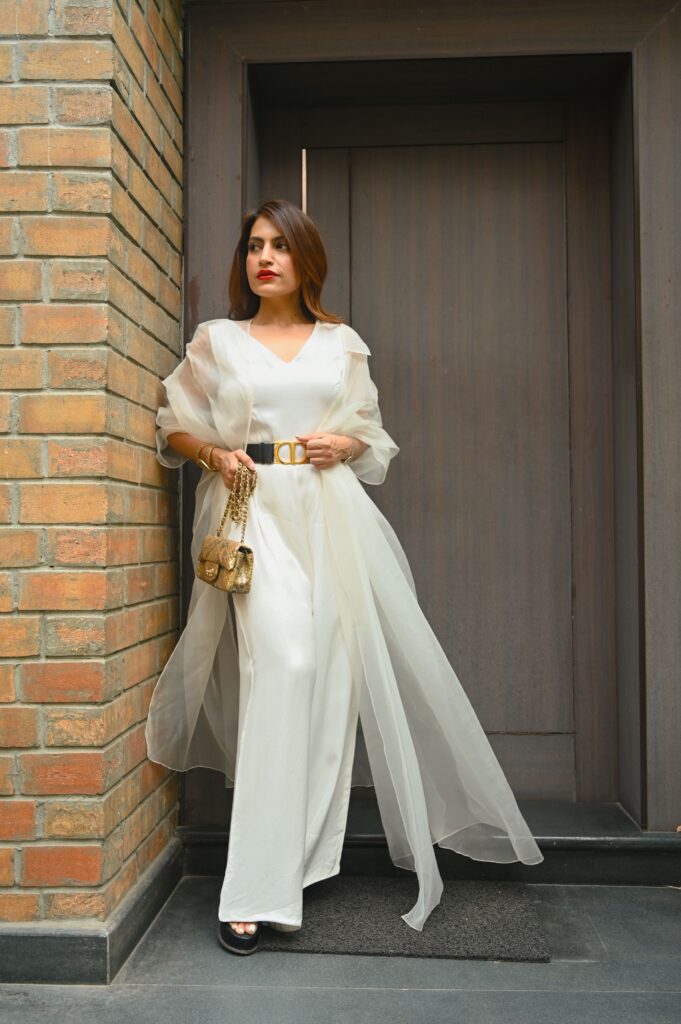 As an influencer, you have a significant following on social media. How do you use your platform to promote Indo western fashion style for the international audience?
I love promoting trends I like. I derive them from books, magazines and when I travel. I watch a lot of youtube videos to understand what I relate to. I plan my reels with the research I have done as to things I like.
Based on the engagement rate, I understand what kind of content people appreciate and which posts got the maximum likes.
I improvise on that content and post more reels like that. Usually, people like my styling reels on how I style up an entire outfit in many ways.
So I do get ready with my reels often. I can relate to people by asking them their questions and polls in Instagram stories.
Collaboration is a common practice in the fashion industry. Have you collaborated with other designers, brands, or influencers? If so, what was the experience like, and how did it enhance your work?
Yes, I have collaborated. Collaborating with big brands such as Nykaa Fashion, Aza Fashions, Pernia's Pop up and Marks and Spencer did wonders regarding views and followers. As these brands are enormous, the people who followed them and liked my reels in return began following me, and my thoughts increased.
Also, collaborating with big brands, many other smaller and bigger brands approach to work with them.
Sustainability and ethical fashion are gaining more attention in the industry. How do you incorporate these principles into your designs and influence your audience to make more conscious fashion choices?
I choose more natural fabrics, cotton, jute, and hemp, for my collections and even line jackets with breathable fabrics instead of polyester so they last longer and are more comfortable.
I am a fashion addict, but when it comes to shopping for myself, I always choose fabrics and outfits that I can wear and restyle and repeat. Something like a tweed jacket is more my style than a leather jacket.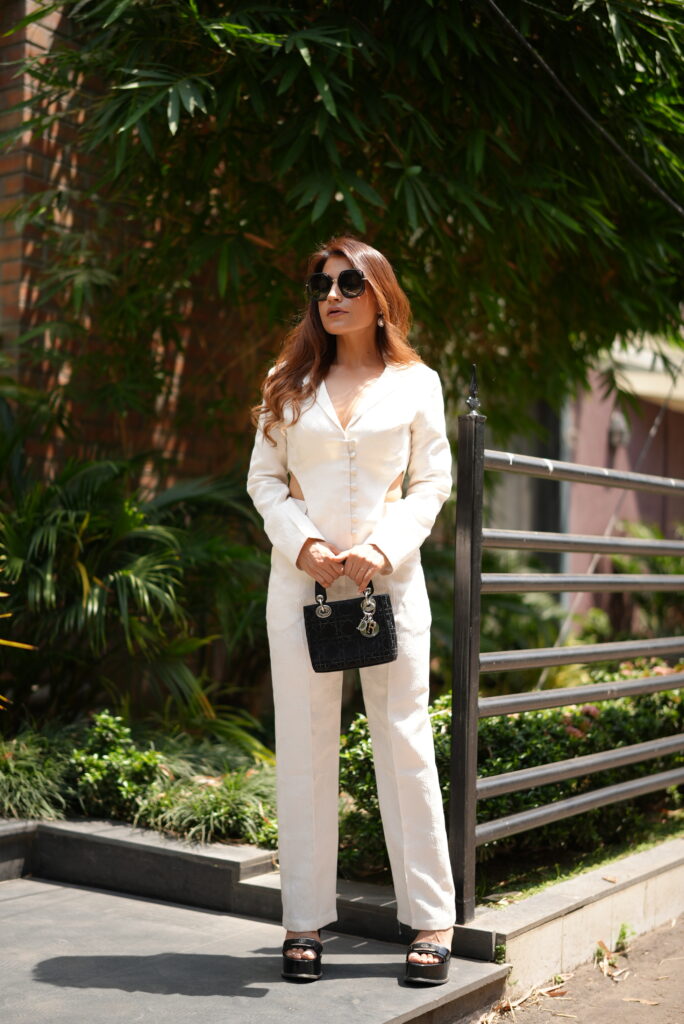 Fashion trends are constantly evolving. How do you stay ahead of the curve and maintain your unique perspective in a fast-paced industry?
I love reading up on the fashion forecast for various seasons. I also subscribe to fashion books and magazines that make me keep up with the trend.
Im very experimental with my wardrobe, so I like styling things differently, and I feel my clients appreciate it and wear them like that.
I regularly attend fashion events and exhibitions to learn more. And I follow designers I like, celebrities and fashion bloggers.
Could you share a memorable experience or project that stands out in your career so far? What made it special?
Dressing up and draping come naturally to me. I clearly remember wearing a draped skirt in 5 different ways after I had designed it for the first time in 2010. I wanted to see the feedback I get as Kolkata is a conservative market. Whenever I met different clients wearing it, people appreciated it.
They even asked how I wear such different clothes daily, and I would laugh and say I have only styled the same thing differently. I showed them a different way to wear it, and it became my hot-selling piece.
Also, when I started blogging, I did reels showing styling up a stole and styling a skirt in many ways, which people found helpful.
Can you discuss any upcoming projects or collaborations you're excited about?
I just collaborated with Aza. It was lovely as India's biggest and best fashion store.
I got appreciation and great views. I walked into Dior in London and showed them my blog; they were so lovely. Their team helped me create a reel with their India x Dior collection.
I was overwhelmed. Collaborating with Nykaa Fashion was also a very big high. I got a lot of recognition for this and also more work. Lots of exciting projects are coming up. Stay Tuned. Fingers crossed ☺
Shradha, how do you handle criticism or negative feedback in the industry, and what advice would you give to others facing similar situations?
Every feedback is good feedback. Instagram has given me so much work, love and recognition. I am here because of my followers and their love. But still, if there are comments or criticism, I ponder if it works for me.
If it is feedback to improve my work, I work harder. Else I let it go. I take every feedback as engagement in my posts, which suits my work.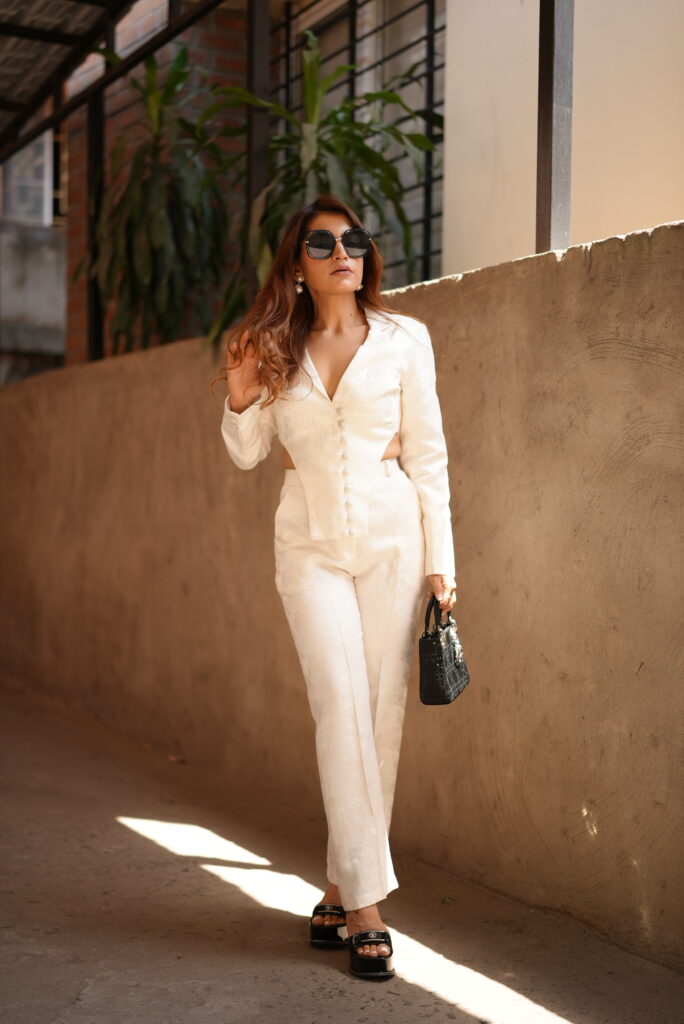 Finally, what message or feeling do you hope people take away from your designs and your influence as a fashion designer?
My indo-western designs focus on Indian embroideries and craftmanship with international cuts. Every outfit can be worn in different ways and multiple times. I want people to love my work, possess it for long, and wear and style it differently.