Styled with Substance: Making Every Day Iconic
As she Delves into the philosophy of living meaningfully. Join us as we explore how

Rajeshwari Sharma

blends aesthetics with daily authenticity.
How did you initially get started in Creative Design, and what inspired you to pursue a career there? What are some of the challenges you've faced in your career, and how have you overcome them?
In 2003, I embarked on my career as a web developer. As I progressed in my profession, I discovered a growing interest in design. Concurrently, I pursued creative design courses alongside my job, gradually becoming my primary area of expertise and interest. Reflecting on my background as an art student in both school and college, I realized that this field was my true passion.
Transitioning from a coding background to design was quite challenging. However, my unwavering passion for design motivated me to overcome these obstacles and achieve my goals. It was my enduring love for design that ultimately brought me to where I am today, allowing me to say that creativity is an integral part of my heart and soul.
Can you share some memorable experiences or projects from your 15-year journey in the Creative Design industry?
I've worked with various startups initially in my career, which led me to handle tasks independently in many areas of the business. It's been a memorable journey, an entire of daily learning and skill experimentation as the company expands. The highlight was receiving my first award for Best Creative Designer.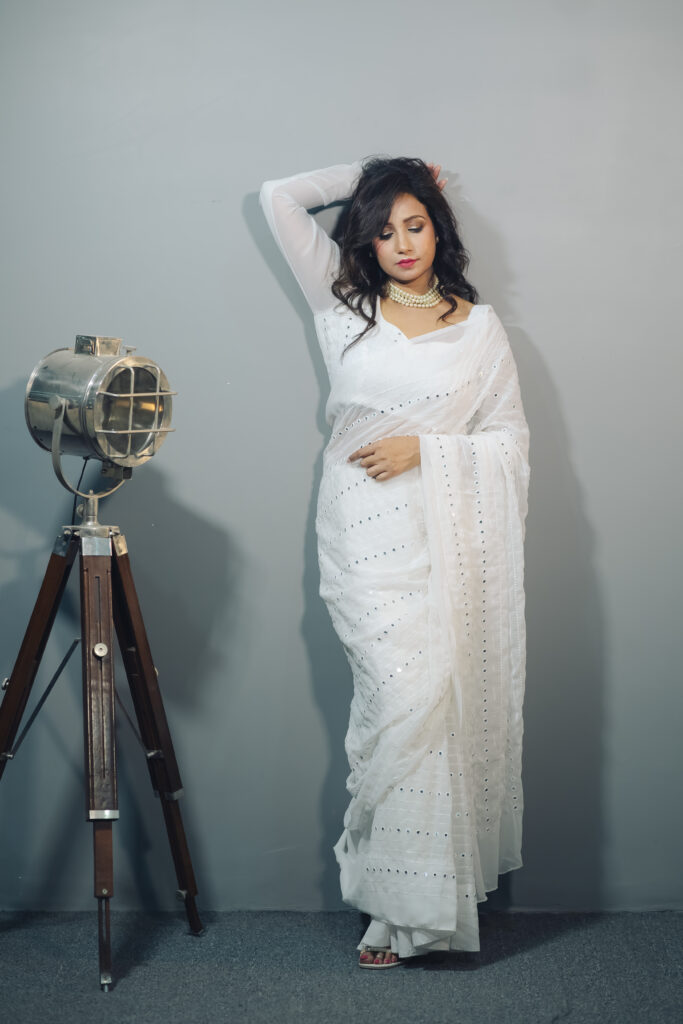 Could you describe your journey as an Instagram content creator and the evolution from parenting content to lifestyle, fashion, and travel content?
In 2019, I took a break from my corporate job for a few months and ventured into Instagram for fun. I began by posting candid snapshots of my daughter and me, but it soon became a platform for sharing my parenting journey through beautiful pictures and offering tips, insights, and anecdotes. Within a year, I received offers for brand collaborations, event invitations, and meetups.
Throughout this journey, I shared content related to twinning outfits, dance reels, and creative photography, all of which garnered significant appreciation. Gradually, I explored new facets of my creativity and received numerous opportunities in lifestyle, fashion, and travel. This led me to evolve into a lifestyle content creator, working across various domains.
Q: Balancing a high-profile job and being an Instagram content creator must be challenging. How do you manage your time effectively between these roles?
Balancing a full-time job with content creation can be pretty demanding. Meeting brand deadlines presents its own challenges, but when you're passionate about what you do, you're willing to put in the extra effort and go beyond your limits.
That's precisely what I do—I prioritize my tasks and manage my time effectively. I must give a special shoutout to my supportive family, who alleviate my concerns about caring for my daughter and managing household chores. My family is my most significant support system.
What are some of your favourite aspects of content creation, and how has your passion for photography played a role in it?
Being a mom, spending time with my daughter is a joy, and creating content with her is even more special. It allows us to bond, share moments, and engage in activities like dancing, laughing, styling, and travelling, which I cherish as my favourite moments. Moreover, collaborating with prominent brands and seeing myself featured on their platforms feels like a significant achievement.
Photography has been a part of me since college, and I have a deep love for capturing those special moments. My passion for photography has only grown during my Instagram journey, becoming a central aspect of my life.
I've dabbled in creative photography and perspective shots and experimented with videos, earning appreciation from many. It's reached a point where fellow content creators are asking me to start photography classes.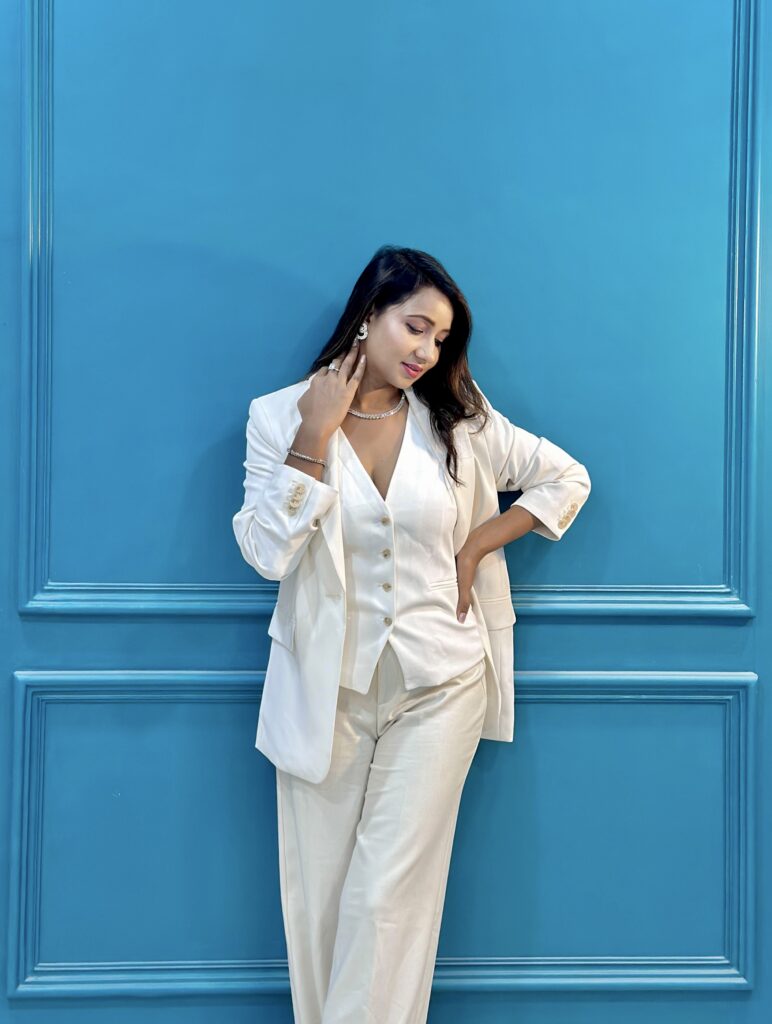 Can you share some tips for aspiring content creators looking to make their mark on social media, especially in the lifestyle and fashion niches?
The paramount advice for all budding content creators is to stay genuine and distinctive in everything you share on your page or endorse for any brand. Collaborate with and promote brands, products, or services only if you genuinely believe in them. Do not copy anyone's style of doing things, but create your own unique way of presenting content. Prioritize quality over quantity and maintain consistency in your work.
You've collaborated with several well-known brands. Tell us about one of your most memorable brand collaborations and what made it special.
While I've had the privilege of collaborating with several of my favourite brands, "Dyson" holds a special place in my heart and within my family. My collaboration with Dyson for their vacuum cleaner was particularly memorable.
I had the opportunity to use my creative photography skills to capture various areas of the house being cleaned in a single static post. Also, in the video post, my daughter can be seen using the vacuum, which made the collaboration exceptionally meaningful.
Furthermore, this product has been a lifesaver, where cleaning even the tiniest and most concealed dust particles can be challenging. It continues to be used by my parents, daughter, and myself, demonstrating its enduring value in our household.
Hosting meaningful events in Delhi, India, is a commendable initiative. Could you tell us more about these events and the impact they've had on the community?
Throughout my journey, I've had the privilege of co-hosting numerous events with my partners, all of which have left a significant mark on creators, businesses, and society in various ways.
One event featured a photography workshop, another focused on sustainable fashion in collaboration with an NGO to support a worthy cause, and we even organized a fashion show to boost the confidence of underprivileged women.
In addition to these initiatives, we've supported small businesses by promoting their brands through creator meetups with specific objectives and agendas.
As a working mother, how do you maintain a healthy work-life balance, and what advice would you give to other working moms facing similar challenges?
Being a working mother, I strongly advocate for a balanced life. I make it a point not to carry office work home or on weekends. At home, I'm fully present and dedicated to spending quality time with my family. It can be challenging to manage, but with proper prioritization, I believe every mom can achieve this balance.
Equal parenting is a cornerstone of my life and significantly enhances the well-being of my child. I encourage fostering independence in children from an early age, as it not only contributes to their overall development but also simplifies the life of a working mother.
In your opinion, how has the landscape of social media and content creation evolved over the years, and how have you adapted to these changes?
Over the past 2-3 years, social media has transformed significantly, introducing innovative approaches for crafting captivating content. This shift has provided brands with substantial opportunities for business and marketing through influencers, enabling them to reach vast audiences even on modest budgets.
In the last 1.5 years, video content has notably surged in popularity, and content creators have adeptly embraced this trend.
In response to the evolving landscape of social media, I've continually adapted my approach to cater to a broader audience.
I try to experiment with various content formats, leveraging every available avenue to maximize the potential of social media.
Can you share a memorable photography experience or moment when you felt your iPhone and tripod allowed you to capture something truly special?
There have been numerous instances when I found myself without a photographer or anyone to take my pictures. Consequently, I've become self-sufficient in capturing pictures and videos. My trusty tripod and iPhone accompany me everywhere, eliminating the need for dependency on others. One particularly memorable experience stands out: one day, I left for my workday and spontaneously decided to capture photos/videos right in the middle of the street.
With my tripod and Bluetooth shutter remote, I fearlessly began shooting, paying no heed to the passersby. This experience boosted my confidence and encouraged me to continue shooting solo.
As a result, I often embark on solo photography adventures, putting my faith in my self-photography skills.
What role has your daughter played in your journey, and how do you involve her in your creative pursuits?
I initiated my page, @missrasika, in honour of my daughter, Rasika. She is the very reason this page is so particular to me. Rasika has been my inspiration, and our journey together has been filled with beautiful moments dedicated to creating content for and with her. She has been my muse for creative photography sessions, always cooperating and even contributing her own ideas.
Kids are a wellspring of creativity, and I often trust her imaginative suggestions. This leads us to brainstorm together and collaborate on content creation.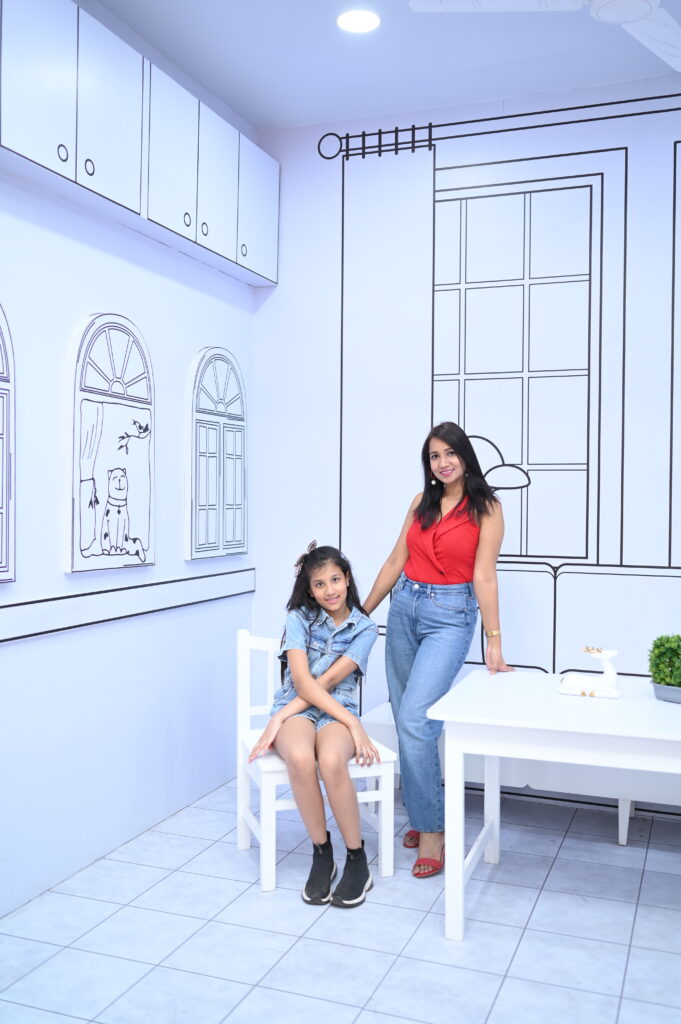 Can you share a memorable personal or professional achievement that has had a significant impact on your life and career?
I've always aspired to excel in my professional journey, and an opportunity arose where I found myself leading the entire digital creative team, overseeing every facet of the digital realm, from strategies to design. During that phase of my life, I reached the pinnacle of success, personally and professionally.
My performance at work was outstanding, and I had the privilege of collaborating with exceptional brands in content creation. This period in my life left me content with my personal life as well.
I can confidently assert that one of the most gratifying achievements is the ability to experience financial, mental, and emotional independence all at once, especially as an omen.
Finally, what words of wisdom or advice would you like to share with individuals looking to succeed in their professional careers and personal passions, as you have?
My advice would be to pursue your passion with dedication and unwavering effort. Stay composed and true to yourself throughout your journey. Avoid comparing your life or your work and that of others, and strive to embrace a positive way of life.